Fungal infection of the nails (nail fungus) medically known as Onychomycosis, is a very common condition especially in the toenails. For most people, nail fungus is not a health risk, but more of a cosmetic problem. However If you are diabetic, have poor circulation and/or a weakened immune system, nail fungus can become a very serious problem.
It is imperative to treat nail fungus quickly once an infection starts.
Most nail infections are caused by dermatophytes, called that because they only infect the skin (or dermis) and skin structures like nails. Trichophyton rubrum and Trichophyton mentagrophytes cause most of the infection, with T. rubrum responsible for as many as 90% of onychomycosis cases. Candida (yeast) as well as certain molds can also infect nails.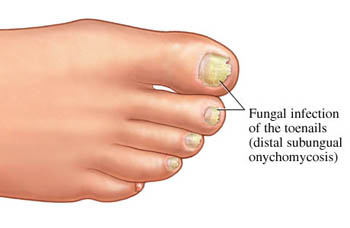 Diagram of Toenail Fungus
How to Treat Nail Fungus
There are a number of ways to deal with onychomycosis. They almost always include cutting away as much of the affected nails first. These include:
Oral medicines – systemic therapy where the medication gets into the bloodstream and then to the nails. Like Lamisil
Removing most or all of the toenail, then using local therapy as the new nail grows out.
Removing the toenail permanently by killing the toenail root.
Using some other technique along with topical medicines to try and force the medication into the nail. This has included drilling holes and using heat.
Alternative and complementary medications, like tea tree oil.
Laser therapy, which is used to try and kill all the fungus, often along with removing as much of the thickened toenail as possible beforehand.
With the right treatment, you should be able to get rid of a nail infection caused by fungus, even if you've had it for years or it's very bad. But you may have to be patient. It could take months to clear up.
Key points about treating fungal nail infections
To get rid of a fungal nail infection, you will probably have to take a treatment, sometimes for up to six months.
Fingernail infections tend to clear up quicker than toenail infections. You may need to take medication for only six weeks for a fingernail infection.
Some Prespcription Medication can sometimes damage your liver (though this is rare) and you may have a test to check if your liver is healthy before starting a nail fungus treatment.
Normally doctors recommend pills for this condition, but there are also treatments you can put on an infected nail. If the problem is mild, you might be given a nail varnish or use tea tree oil that kills the fungal infection.
If your infection is severe or keeps coming back, your doctor might recommend removing part or all of your nail. But this treatment is rarely used.
If your nail infection doesn't bother you, you may wish to leave it alone.