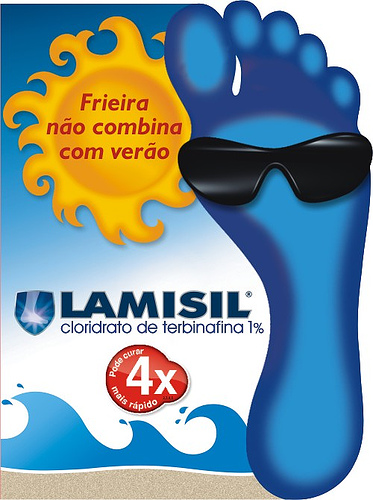 Lamisil is the brand name of the onychomycosis drug terbinafine hydrochloride. Lamisil can kill fungus in vitro (in a dish) and is presumed to kill or inhibit fungi in the body as well (in vivo). It is believed that Lamisil inhibits the activity of an enzyme that is important for making a component of the fungal cell wall. Without this component, the fungus cannot grow and reproduce. The drug is much more potent (4,000 times or so) at inhibiting the fungal enzyme versus the human one. Lamisil is particularly useful in treating the two major dermatophytes that cause onychomycosis: Trichophyton rubrum and Trichophyton mentagrophytes.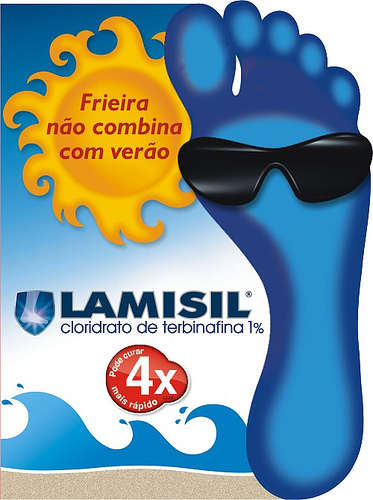 Lamisil is unable to kill other fungi that may be involved in onychomycosis like Candida albicans. Therefore Lamisil treatment is limited to dermatophytoses of the nail. For this reason it is important for doctors to accurately diagnose the organism that is causing the onychomycosis before starting treatment.
Lamisil is available as 250 mg tablets. The traditional way that Lamisil is administered is in a continuous regimen, once daily, for several weeks. If onychomycosis is affecting the fingernails, a single 250 mg dose is taken orally each day for six weeks. If onychomycosis is on the toenails, the treatment is prescribed for twelve weeks.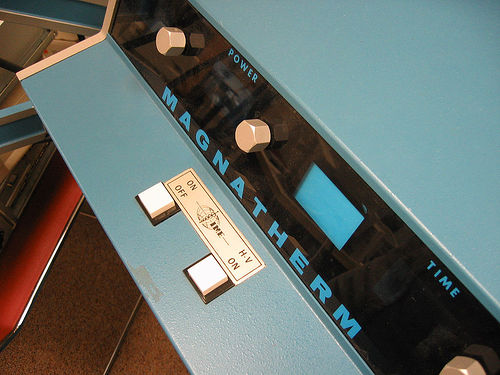 Recently, good results with Lamisil have been achieved using a pulse therapy regimen. In this approach, two 250 mg tablets (500 mg total) are taken each day for one week with three weeks of no drug. This one week on/three weeks off system is used for four weeks in fingernail onychomycosis and for eight weeks in toenail onychomycosis. This pulse regimen has not been approved by the Food and Drug Administration but is still used. While larger clinical trials are needed to determine if the pulse system is equally effective as continuous dosing, this approach would be less expensive overall and would minimize potential side effect risk.
The most commonly reported side effects are dyspepsia, which is also known as upset stomach or indigestion. There is also a slightly increased occurrence of headache in people taking Lamisil. People sometimes get a generalized rash when taking terbinafine (Lamisil).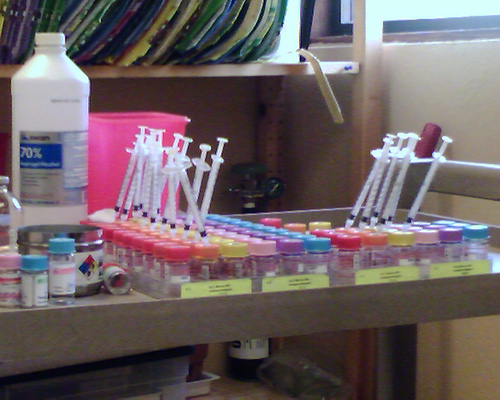 Lamisil, as with all antifungal drugs, has the potential to cause liver problems. In fact, anyone with a history of liver disease will usually not receive one of these drugs to treat onychomycosis. To make sure that people do not experience liver problems while they are taking the drug, a liver function test will be done prior to starting the medication. This is a blood test that measures enzymes from the liver, among other things. The test will be repeated at four weeks to make sure no problems have occurred. If they have, Lamisil is stopped and the problem usually goes away on its own. In some rare cases Lamisil has caused liver failure.
Another rare but potentially serious Lamisil side effect is that it can cause a drop in the number of white blood cells in the blood. Because of this, doctors routinely take a blood sample before treatment called a complete blood count or CBC. This can be done at the same time as the liver function test. Then, after four weeks, the CBC is repeated to check for a drop. If there is a drop, the drug is stopped. Stopping the drug is usually enough to see this white blood cell number return to normal.
The onychomycosis drug has been linked to very severe skin reactions called Stevens-Johnson syndrome and toxic epidermal necrolysis. These are very rare Lamisil side effects, but if they occur, they can cause the skin to blister and come away from the body. Stevens-Johnson syndrome and toxic epidermal necrolysis require hospitalization and close supportive care.
Compared to other antifungal and onychomycosis treatments, Lamisil interacts with relatively few drugs. It may cause cyclosporine (immunosuppressant) to be less effective. Alternatively, the toxicity of cimetidine (acid-reducing pill) and rifampin (antibiotic) may increase.
While the drug may be safe it is not always possible to know for sure, therefore Lamisil should not be started in pregnant women or nursing mothers. Onychomycosis treatment can be postponed until after pregnancy and nursing is complete.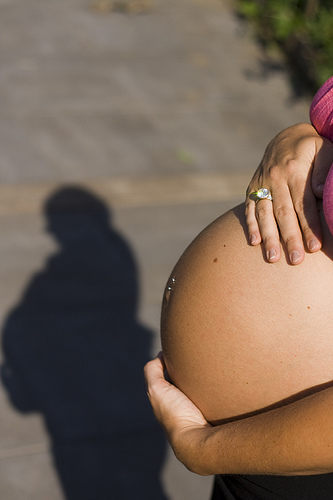 The occurrence of onychomycosis in children is very rare compared to the rate of occurrence in adults. However, should it occur, Lamisil could potentially be used to treat the disease. While it has not been approved by the FDA for use in children, a Lamisil treatment dose can be prescribed based on the weight of the child. Children weighing less than 25 pounds or younger than 12 years old should not be treated with Lamisil.
Lamisil treatment of onychomycosis is faster than it was with older agents like griseofulvin. While Lamisil can cure onychomycosis in a majority of patients taking the medication within several months, the nail itself is not normal for some time, even after the dermatophytosis has been eliminated.
After Lamisil treatment is complete, the drug can be detected in the nails for up to three months after the drug is stopped. It can be detected in the blood for up to six weeks after treatment cessation.
Lamisil 250 mg tablets costs the National Health Service in Great Britain £3.44. Canadian retailers charge $80 to $160 for a one month supply. In the United States the cost of Lamisil varies, but the unsubsidized cost could be as high as $400 a month or more.
References
Terbinafine (Lamisil) prescribing information
Gupta AK, Lynch LE, Kogan N, Cooper EA. The use of an intermittent terbinafine regimen for the treatment of dermatophyte toenail onychomycosis. J Eur Acad Dermatol Venereol 2009;23:256-262.
Takahata Y, Hiruma M, Shiraki Y, Tokuhisa Y, Sugita T, Muto M. Treatment of dermatophyte onychomycosis with three pulses of terbinafine (500 mg day for a week). Mycoses 2009;52:72-76.