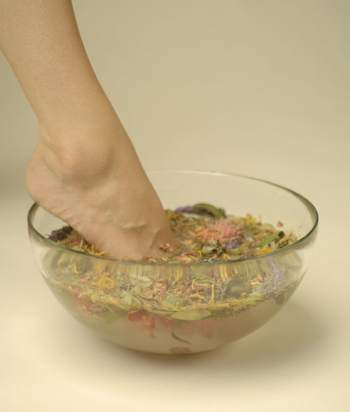 Many of us think of home remedies as some ancient form of hillbilly medicine that Grandma Betty Jo passed down from her Grandma, who passed it down from her Grandma, and so on. Many of the home remedies we as a culture perform today have been passed down from our grandparents simply because they grew up in a different time era where running to the doctor for a cut, or runny nose, was clearly out of the question! Times were much harder and making due with what they had in the medicine cabinet, and sometimes under the kitchen sink, was they only treatment available. I have heard it said that home remedies are experimental medicine at its finest, that I am not so sure of, but what I am sure of is some of these remedies truly work!
Home remedies for toenail fungal infections are very popular, and many individuals report on there effectiveness. These remedies range from soaking your feet in Listerine, and vinegar, to rubbing your feet with Vicks vapor rub, or applying bleach, peroxide, alcohol, or various oils to your toes. Obviously I am not going to tell you that applying bleach to your skin or toes is a good idea, but there are several forums that speak of this.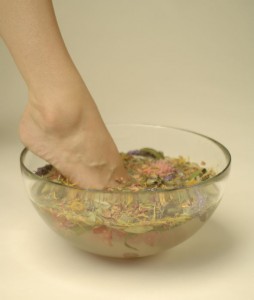 The logic behind the vinegar soaks is that fungi need a specific Ph to grow in; soaking your feet in highly acidic vinegar disrupts the normal Ph of the skin, thus preventing the growth of the fungi. Keep in mind that while it may rid your toes of the fungus, it will also rid your skin of moisture. A wonderful alternative to actually submerging your feet in a basin full of vinegar is saturating a cotton ball in vinegar, and placing the cotton balls on each affected toe for 15-20 minutes. This still gives your toes the vinegar treatment while sparing the rest of your feet the acidity. This is the recommended technique for the Listerine as well.
Honestly, I am not sure what the logic is behind the Vicks vapor rub, maybe it is the eucalyptus, but the comments are unanimous…it works, and it works rather quickly! You must ensure you cover the entire surface of the nail and the surrounding areas, rubbing it in very well. Every report I have read states that the fungal infection starts showing visible improvements in a matter of days. Many people trust the old reliable remedies as well, alcohol and peroxide applied directly to the nail surface and under the nail bed if possible. These will no doubt produce a noticeable amount of burning, and stinging.
All of these remedies mentioned here have the potential to slow the growth, or kill the fungus; however, you must use common sense when trusting your health to home remedies. If the infection persists or shows signs of worsening you must seek medical intervention immediately. Also, these remedies tend to be more effective when applied at an early stage in the infection process, it is not recommended that you try any home remedies or natural treatments if your toe is noticeably infected, separated from the nail bed, or oozing any type of fluid or pus. If you have any of the symptoms listed above, it is imperative you contact your doctor immediately!